2007

:

John G.F. McLeod, P.Eng., FEC, FGC (Hon.)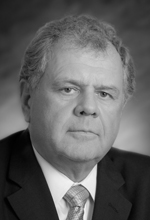 John McLeod was born and raised in southern New Brunswick. John attended university at College Militaire Royal in St. Jean, QC and graduated with a B.Sc. in Mechanical Engineering from the University of New Brunswick in Fredericton in 1970.
Following graduation, John moved west and spent 15 years with Amoco Canada Petroleum Corporation in Calgary, Edmonton, DraytonValley and Odessa, TX. He spent one year at Amoco's ProductionResearchCenter in Tulsa, OK, and four years as chief engineer for Amoco Canada.
Since leaving Amoco Canada, John has been involved as an officer and director of smaller Canadian oil and gas companies with both domestic and international operations. In addition to projects in China, Jordan, the US, Guinea, Georgia (in the former Soviet Union), India, and Papua New Guinea, he was heavily involved in the Sudan Petroleum Project from 1991 to 1997, including as president and CEO of Arakis Energy Corp. from 1995 to 1997.
He was recently president and CEO of Rally Energy Corporation with a large heavy oil project in Egypt and exploration in PEI and in Pakistan. He has also served as an officer and/or director of upstream Exploration and Production companies with operations in California, Louisiana, Vietnam, Ontario, Michigan, the Republic of Congo, Iraq, Russia, Uganda and elsewhere in Africa.
John obtained his Professional Engineer designation from APEGGA in 1972, and served on various committees commencing in 1981. He was chair of the Career Development Advisory Committee and the Discipline Committee, and served as a member of the Enforcement Review Committee. He was elected to council and served from 1986 to 1989.
Elected to a second term on council in 2006 as president-elect, John was president in 2007 and past-president in 2008. In 2008 he was awarded an APEGGA Honorary Life Membership, 2009 he was named a fellow of Engineers Canada and in 2013 he was named an honorary fellow of Geoscientists Canada. John is also a member of the Society of Petroleum Engineers and the Calgary Petroleum Club.