2003

:

M.W. (Mike) Smyth, P.Eng., FEC, FGC (Hon.)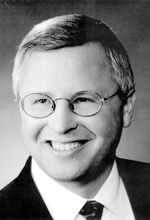 Born in Ontario, Mike Smyth graduated from the University of Waterloo with a B.A.Sc. in 1980 and earned an M.Sc. in structural engineering from the University of Calgary in 1990.
His career began in drilling operations and research for Dome Petroleum in the arctic offshore, followed by six years as an independent consultant. Smyth has worked in the engineering, procurement and construction industry since 1992 with Bantrel, Colt, and Optima Engineers and Constructors.
Smyth has served APEGGA since 1988, including six years on council. He served as first vice-president (2002), president (2003) and past-president (2004). He also served on the licensure task force and advocacy task force. His committee involvement includes membership on the Calgary branch, the investigative committee, the nominating committee, the university student liaison committee and the council governance subcommittee.
During his tenure as president, APEGGA tackled a number of critical issues facing the association. He guided discussions with the Alberta Society of Engineering Technologists (now the Association of Science and Engineering Technology Professionals of Alberta) on the future relationship between the two organizations.
Similarly, he was instrumental in the development of visionary concepts that identified both how APEGGA could lead the professions in the future and what APEGGA's relationship with other professionals might be. He was made an Honorary Life Member in 2004. In 2009, he was named a fellow of Engineers Canada and in 2013 he was named honorary fellow of Geoscientists Canada.
At the community level, Smyth has been involved with his community association and several education-related groups and ran for political office