1998

:

D.R. Dan (Dan) Motyka, P.Eng., FCAE, FEC, FGC (Hon.)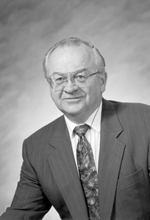 Dan Motyka was born and raised in Manitoba. He graduated from the University of Manitoba with a B.Sc. in mechanical engineering in 1959. He attended the advanced management program at Harvard University in 1978.
Motyka joined Gulf Canada Resources Limited upon graduation and retired at the end of 1991 as vice-president of production. He was responsible for the building of the Beaufort drilling system and also helped create the Russian joint venture KomiArctic Oil.
Motyka was president and chief executive officer of Canada Hibernia Holding Corp. from 1993-95. He joined Questor Technology Inc. and served as president until June 2006. He continues as a director of the company. He also serves as chair of the board of directors of Garneau Inc. In October 2006, Motyka joined CTI Petroleum Canada as chief operating officer where proof of concept technology is being commercialized.
Motyka has been a member of APEGGA since 1964 and was appointed to the Engineers Canada board of directors before becoming president-elect, president (2009) and then past-president. During his term on council his involvement has included:
president, APEGGA council (1998-99)
first vice-president, APEGGA council (1997-98)
member, APEGGA council (1994-97)
chair, discipline committee (1996‑97)
member, discipline committee (1995-98)
chair, roles and responsibility task force, which introduced the association's new governance model
member, executive search committee, which selected and recommended to council the replacement for APEGGA's retiring executive director
He has served as chair, producers section of the Canadian Gas Association (1979-81) and represented Canada on the International Gas Union (group committee A) for six years. He also served as chair of the board of directors of the Centre – Cold Ocean Resource Engineering. He was the founding chair of the associates program in the faculty of engineering (now the Schulich School of Engineering) at the University of Calgary in 1990.
He served on the advisory board, project management, for the University of Calgary from 1987‑93. Motyka was also chair of the project management chair fundraising committee 1992-93. He represented the Canadian interest in the management audit of the University of Texas A & M deep ocean drilling project. He served as co-chair for the fundraising program for the Schulich School of Engineering to top up a chair in petroleum and create a new chair in drilling.
Motyka's awards include:
honorary fellow, Geoscientists Canada (2013)
fellow, Engineers Canada (2009)
fellow, Canadian Academy of Engineering (2005)
Order of the University of Calgary (2001)
Honorary Life Membership, APEGGA (1999)
J.C. Sproule Memorial Plaque, Canadian Institute of Mining, Metallurgy and Petroleum (for distinguished contribution to petroleum exploration in the Canadian Arctic)
Distinguished Service Medal, Petroleum Society