1995

:

John R. Wood, P.Eng., FEC, FGC (Hon.)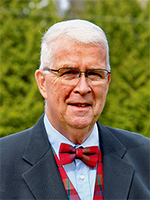 Born in Ottawa, Ont., John Wood received a B.Sc. in chemical engineering in 1970 from Queen's University in Kingston. He began his engineering career with Gulf Oil Canada and later joined the Newfoundland Refining Company to work on the start-up of its 100,000 barrel-per-day grassroots refinery.
He moved to Alberta, and graduated from the University of Alberta in 1978 with an MBA while working with the Government of Alberta and Peat, Marwick & Partners (now KPMG). In 1980, he joined RTM Engineering in Calgary then succeeded to positions with Stearns Catalytic/Delta Projects, Partec Lavalin/SNC-Lavalin, TransAlta Energy Systems, Petro Equipment Sales and Raychem Canada/Tyco Thermal Controls.
Later, he was with AREVA T&D Canada Inc. as the regional manager for Western Canada, Siemens in Calgary and Vancouver, Powertech (a subsidiary of BC Hydro), and then finished his working career with Trydor Industries. He also ran his own consulting company for several years.
Wood served on many industry and technical groups, including:
member, past national director and chair, Calgary branch, Canadian Institute of Energy
member, Canadian Society for Chemical Engineering
member and past-president, Calgary Professional Club
member and past-president, Canadian Gas Processors Suppliers Association (now Gas Processing Association Canada)
member and past-president, Calgary branch, Royal Military Colleges Club of Canada
member, Calgary chapter past-president and national past-president, Canadian Society for Engineering Management
alternate warden, Camp 18 of the Corporation of the Seven Wardens, stewards of the iron ring
Wood registered with the association as a professional engineer in 1974 by transfer from Newfoundland. His commitment to the engineering profession was notable. He served on APEGGA committees involved in every aspect of the association's function, from regulation to publications and convention planning.
He also was an APEGGA councillor for two consecutive terms (1987-90 and 1990-93) – believed to be the first person to serve two consecutive councillor terms – and subsequently served as second vice-president (1993-94), first vice-president (1994-95), president (1995-96) and past-president (1996-97). He was awarded Honorary Life Membership in the association in 1996. He was also a member of, and served on the board of directors of, the APEGGA Education Foundation and was a member of the Past-Presidents Advisory Board for many years.
He was also a registered professional engineer with The Association of Professional Engineers and Geoscientists of British Columbia. In 2009, he was named a fellow of Engineers Canada and in 2013 he was named an honorary fellow of Geoscientists Canada.