1994

:

Dr. David W. Devenny, P.Geol., P.Eng., FGC, FCAE, FEC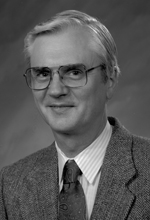 Born in Kitchener, Ont., Dr. Dave Devenny graduated with a bachelor's degree in engineering geology from Queen's University in 1960 and completed his MSE and PhD in geotechnical engineering from Purdue University, Indiana, in 1963 and 1975, respectively.
His career started with the federal Department of Public Works in Ottawa as an engineering geologist in the early 60s. He was the head of geotechnical services for eastern Canada and the Arctic from the mid-60s to the early 70s. In 1973, he joined EBA Engineering Consultants in Edmonton.
From 1978-95 Devenny worked for Gulf Canada Resources Limited. There he managed various activities connected to Gulf's oil sand assets, including joint venture activities, design of mining, extraction and integrated plant facilities for Gulf's mineable oil sand prospect, and research on extraction, upgrading and environmental aspects.
The numerous APEGGA committees he has served and chaired since 1976 exemplify Devenny's commitment to the association. Devenny was first elected to council in 1987. He returned in 1993 after being elected first vice-president and served as president in 1994-95. In 1995 he was made an Honorary Life Member. In 2007, he served as president of the APEGGA Education Foundation.
Devenny has served many industry and technical associations. In 1984-86 he served as president of the Canadian Geotechnical Society. At that time he also served as a vice-president of the Engineering Institute of Canada. In 1995 he was a founding member of the Alberta Economic Development Authority.
Senior awards recognize his dedication and contributions to the engineering and geoscience professions, to geotechnical practice, and to commercialization of Alberta's oil sands. The awards include: Gulf Canada Resources CEO Award (1991); fellow of the Engineering Institute of Canada (1992); APEGGA's L.C. Charlesworth Professional Service Award (1992); the Alberta Oil Sands Technology and Research Authority Karl A. Clark Distinguished Service Award (1994); fellow of the Canadian Academy of Engineering (1996); the Canadian Institute of Mining, Metallurgy and Petroleum's McParland Medal (2001); the Calgary Geotechnical Society Award (2005); the EIC Julian C. Smith Medal (2007); the Geotechnical Society of Edmonton Award (2007); fellow of Engineers Canada (2009), and fellow of Geoscientists Canada (2013).
Devenny's consulting firm, The Rock Doctor, provides independent engineering, geology and environmental advisory services.