1993

:

J.A. (Tony) Howard, P.Eng., CMC, FEC, FGC (Hon.)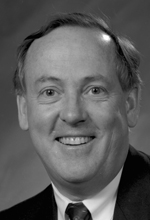 Tony Howard was born in Montreal and graduated from McGill University in 1964 with a bachelor's degree in engineering. He obtained his MBA in 1966 from Stanford University, California.
His diverse career started with Montreal Engineering in 1966, where he worked as a junior engineer and finally site commissioning engineer on a Saskatchewan Power Corporation project in Estevan. He was seconded for two years to the federal Ministry of Transport in Ottawa in the corporate planning branch.
His experience also includes several aviation, energy and agricultural projects in Jamaica, Colombia and Afghanistan. He transferred to TransAlta Utilities in 1982 and eventually became director of marketing and vice-president of energy supply systems for TransAlta Energy Systems, a TransAlta Utilities subsidiary. He transferred to AGRA Monenco in late 1990, where he was responsible for marketing and business development in Alberta in the power and process lines of business.
Howard joined Stantec Consulting in 1997 and was the manager of industrial in Stantec's Calgary office. He was responsible for the firm's consulting services in the industrial, oil and gas, and electric power sectors.
He registered with APEGGA in 1977 by transfer from Quebec. He served on numerous committees from convention planning to enforcement review. Howard was elected to the executive committee as first vice-president (1992-93) and later president (1993-94). For his exemplary service he was made an Honorary Life Member in 1994. In 2000, he was presented with the L.C. Charlesworth Professional Service Award. He was president of the APEGGA Education Foundation in 2002. In 2009, he was named a fellow of Engineers Canada and in 2013 he was named an honorary fellow of Geoscientists Canada.
Howard's other professional involvement included being a senior member of the Institute of Electrical and Electronics Engineers, Inc., chartered engineer and senior member of the Institute of Engineering and Technology (U.K.), fellow of the Engineering Institute of Canada and being a certified management consultant in Alberta.
Howard was a member and coordinator of Friends of Louise, a volunteer ski guiding group at Lake Louise for 26 years. He was chair of the tours arrangements committee for the Canadian organizing committee – World Petroleum Congress held in Calgary in June 2000. He was active with the United Way of Calgary, the Rotary Club of Calgary, the University of Calgary, McGill University, Stanford University, Mount Royal College and many other volunteer organizations.
Tony Howard passed away in June 2022.