1987

:

James S. Denis, P.Eng., FEC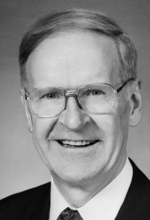 Jim Denis was born in the Drumheller Valley, Alta., and received his chemical engineering degree from the University of Alberta in 1949. In 1961, he graduated with a management degree from the Carnegie Institute of Technology in Pittsburgh.
After graduation, he held engineering positions in Alberta and Ontario followed by U.S. Steel in Pennsylvania. In 1973, he joined MHG International and became president in 1978. In 1980, he was appointed deputy director of the contracting group Bechtel-Monenco-Loram hired for the Alberta oil sands project. Subsequently, he served as president of Monenco Offshore Ltd. and later as vice-president of marketing for the Monenco Group of Companies before retiring in 1986.
Denis has been active as director of Flint Ltd., Argon Ltd. and as a consultant in the engineering procurement and construction contracting field in the steel and hydrocarbon industries in Canada, the U.S. and for projects in Russia.
Denis served a two-year term as chair of The Association of Professional Engineers, Geologists and Geophysicists of Alberta's (APEGGA) enforcement review committee (1981-83) when it was reorganized on the basis of the Carswell Report leading to the current proactive approach to enforcement. He was first elected to APEGGA council in 1983, served as vice-president (1985-86) and as president (1987-88). In 1988 he was awarded Honorary Life Membership in the association. He was named a fellow of Engineers Canada in 2009.
Denis is a member of the Rotary Club of Calgary and was its president from 2000‑01. He is a member of the Calgary Petroleum Club and the finance committee of the Anglican Diocese of Calgary. He served for a decade as the outside member from APEGGA on the faculty council of the school of management at the University of Calgary.
After retiring, he completed a four-year Russian language course at the University of Calgary and became a translator of contracts. He was the English to Russian translator of Under the Northern Lights, a book published in 2004 celebrating the centennial of Rotary in Canada. Denis died on April 7, 2012 at the age of 84.