1986

:

William W. Blair, P. Geoph.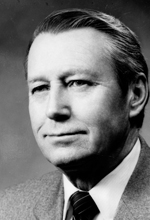 William Blair was born in Youngstown, Alta. After service in the Royal Canadian Air Force (1943-45) where he graduated as a pilot, he enrolled at the University of Alberta. He graduated in 1949 with a bachelor's degree in electrical engineering.
From 1949-69 he worked for Gulf Canada in various positions, then subsequently was appointed northern division geophysicist. He left Gulf in 1969 to join Westcoast Petroleum Ltd. as the company's only geophysicist and retired 19 years later.
Blair was a member of APEGGA since 1964. He served on a variety of committees, was a member of council (1978-81), served as president (1986) and was awarded an Honorary Life Membership (1987). He was also president of the Canadian Society of Exploration Geophysicists (CSEG) in 1969 and was presented with the CSEG Meritorious Service Award in 1981.
Blair was an avid golfer and served on the board of directors of the Earl Grey Golf Club (1991-93). He had been a member of the club since 1968 and had participated in many oilpatch-related tournaments over the years. He passed away in June 1998.