1983

:

John M. (Jack) Browning, P. Geol., FEC (Hon.)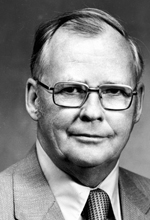 Jack Browning was born in Saskatoon in 1917. He received a B.A. in geology in 1939 from the University of Saskatchewan and an honorary doctorate of laws from the University of Calgary in 1990. From 1943-45 Browning served as a member of the Royal Canadian Artillery and Royal Canadian Air Force.
Browning had a distinguished career in the petroleum industry. He served as president and vice-chair of Canadian operations and major world projects for Tenneco, president of Prodeco Oil & Gas Company (the largest German drilling fund) and as a consultant to a number of international projects with public companies and the World Bank. He was also president of J.M. Browning Consultants Limited prior to retirement.
His participation in various professional associations included: member of the Canadian Society of Petroleum Geologists from 1949, director of the board of governors of the Canadian Petroleum Association, life member of the American Association of Petroleum Geologists, and a founding member of the Oil Scouts. He was named an honorary fellow of Engineers Canada in 2009. He was also a distinguished lecturer at 35 universities and societies in Canada and the United States.
Browning was first elected to APEGGA council in 1976 and subsequently served on the executive as second vice-president (1981), first vice-president (1982) and president (1983). A member of the association since 1967, his involvement also included serving on university liaison, regulatory and advisory committees.
In 1984, he was granted Honorary Life Membership in APEGGA and subsequently received the L.C. Charlesworth Professional Service Award (1994) for his service to the association. Browning died in November 2009.