1981

:

G. Ronald Gray, P.Eng., FEC, FGC (Hon.)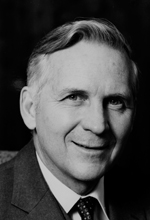 Born in Regina, Ron Gray graduated from the University of Saskatchewan in 1948 with a B.Sc. in chemical engineering.
Throughout his career Gray was involved in the petroleum industry, serving as general superintendent of refining for Royalite Oil Co. and operations manager for Cities Service Athabasca Inc. before becoming Syncrude Canada Ltd.'s first employee.
He held a number of senior positions there, including director of engineering during the design and construction of the Syncrude project, general manager of research and development, and general manager of engineering.
He holds two oil sands patents and has written a number of technical papers on various aspects of oil sands development. He retired from Syncrude in 1986 as general manager of technical services.
In 1987, he joined the faculty of engineering at the University of Alberta on a part-time basis as development officer in charge of fund raising. When he retired for the second time, the development fund had increased by $13 million.
Gray served APEGGA as first vice-president (1980) and president (1981). He negotiated an agreement with the Alberta Land Surveyors to allow engineering firms to carry out land surveying. In addition, he served as chair of the discipline committee and the board of education. He was granted Honorary Life Membership in 1982.
After completing his term on APEGGA council, he became chair of the newly-established appeal board to hear appeals from disciplinary decisions. He also led the joint APEGGA-ASET task force which was formed to develop the criteria by which ASET members could become registered professional technologists (now professional licensees).
For his contribution to this task force, he was made an honorary member of ASET. Gray was a member of Camp 6 Wardens for 13 years, including three years as chair. He was named a fellow of Engineers Canada in 2009 and an honorary fellow of Geoscientists Canada in 2013.
Ron Gray passed away in Edmonton on February 26, 2015.