1980

:

John R. McDougall, P.Eng., FCAE, FEC, OStJ, FGC (Hon.)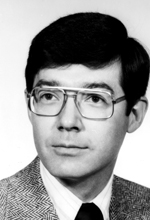 Born and raised in Edmonton, John McDougall received his bachelor of science degree in civil engineering from the University of Alberta in 1967. He also completed a number of postgraduate courses in environmental engineering.
McDougall was appointed president and chief executive officer of the Alberta Research Council in the fall of 1997. He also serves as chair of C-FER Technologies Inc., Innoventures Canada and the Auto 21 National Centre of Excellence; president and general manager of McDougall & Secord Ltd.; and as a director of the PFB Corporation, St. John Ambulance Alberta Council and Edmonton Space and Science Foundation.
An active participant in professional and community affairs, McDougall has served on numerous federal, provincial and municipal agencies, boards and commissions; as chair of the Science Alberta Foundation; director of Edmonton Northlands; chair of the Canadian NAFTA negotiating team on engineering services; founder of the Spirit of Edmonton Society; and as president of the Canadian Council of Professional Engineers (now Engineers Canada) in 1991, APEGGA (1980), the Edmonton Chamber of Commerce and the World Trade Centre Edmonton. APEGGA awarded him an Honorary Life Membership in 1981.
McDougall is a fellow of the Canadian Academy of Engineering, Engineers Canada and an honorary fellow of Geoscientists Canada. He is also an honorary colonel of the 8 Field Engineer Regiment and is an honorary member of the Loyal Edmonton Regiment, the Edmonton Chinese Engineers Society and the Mexican College of Civil Engineers.