1977

:

Emil J. Sanden, P.Eng.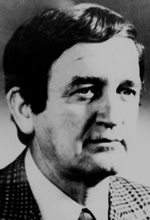 Emil Sanden was raised in Hussar, Alta., the sixth child of sod-busting pioneers. He received his bachelor's and master's degrees at the University of Alberta in 1946 and 1960, respectively. He served as a sessional lecturer in civil engineering working with consultants and the Alberta Department of Highways and Transportation, which eventually turned into a 30-year challenge.
In 1962 Sanden was appointed chief bridge engineer for the province. He was a key player along with industry, consultants and road authorities in the development of 5,000 structures of precast / pre-stressed concrete and welded steel. In 1975 he was appointed assistant deputy minister, engineering and operations.
Active in national transportation, Sanden served as chair of the Western Association of Canadian Highway Officials and in various positions with the Roads and Transportation of Canada. He left Alberta Transportation in 1979 to form his own engineering firm, concentrating primarily in renewable energy.
He became a member of APEGGA in 1950 and served on several task forces, committees and on council. He was elected first vice-president (1976) and during that term was chair of the board of engineering education. He served as president (1977) and was awarded Honorary Life Membership in 1978.
Some of his honours include the Canadian Award of Design Excellence, the Queen's Silver Jubilee Medal and APEGGA's L.C. Charlesworth Professional Service Award (1981). He was also elected a fellow of the Canadian Society of Civil Engineers. Emil Sanden died in 2008 at the age of 83.