1973

:

Ronald N. Dalby, P.Eng., FEC, FGC (Hon.)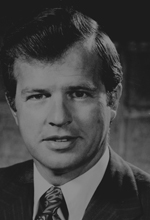 Edmonton born, Ronald Dalby graduated with distinction in civil engineering from the University of Alberta in 1952.
After several years with Imperial Oil Ltd. he moved to Northwestern Utilities Ltd., where he held various managerial positions.
He also held senior positions with I.U. International, Canadian Western Natural Gas and Canadian Utilities Ltd. Dalby was appointed executive vice-president of Canadian Utilities in 1973. Later, he operated his own consulting business in Edmonton.
Dalby served APEGGA on many boards and committees including chair of the board of engineering education, special committee on administration of association affairs, and editorial committee and as a member of the joint APEGGA/Engineering Institute of Canada committee and membership committee.
He was elected to council (1967-72) and later first vice-president (1972-73) and president (1973-74). He was awarded Honorary Life Membership in the association in 1975. Dalby was named a fellow of Engineers Canada in 2009 and an honorary fellow of Geoscientists Canada in 2013.
Dalby was a director of St. Stephen's College, director of the Alberta Northwest Chamber of Mines and past-president of the Oil Capital Kiwanis Club. From 1963-72 he was also a member of Alberta's trade missions to Japan.
Dalby served a four-year term as chancellor of the University of Alberta (1973-76). In 1980, an honorary doctorate of laws was bestowed upon him by the university.
He died in Calgary on October 28, 2014 at the age of 85 after a long illness.