1972

:

R. Alexander Hemstock, P.Eng., FEC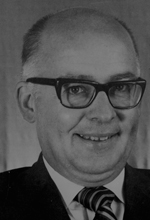 Born in Hanna, Alta., Alex Hemstock graduated with a bachelor's degree in mining engineering in 1943 from the University of Alberta. After a couple of years in the field he returned to the university to earn his master's degree in 1947.
He returned to his first employer, Imperial Oil Ltd., and throughout his 35-year tenure had strong involvement in engineering, environmental and socio-economic problems related to the development of the Canadian Arctic.
Hemstock took early retirement from Imperial Oil in 1978 and created his own consulting company and served as a consultant to the environmental division of Hardy Associates Ltd.
Hemstock devoted a great deal of time to The Association of Professional Engineers, Geologists and Geophysicists of Alberta (APEGGA) on the counselling and education committee, student affairs committee and discipline committee. He was a councillor, first vice-president (1971-72) and president (1972-73). In addition, he served on the Canadian Council of Professional Engineers (CCPE; now Engineers Canada) and served as CCPE president in 1985.
He was past chair of the Arctic Petroleum Operators Association, past vice-president and member of the Canadian Institute of Mining, Metallurgy and Petroleum (CIM), was appointed to many committees related to Arctic land use research and was a member of technical exchange missions to Russia.
His honours included being named a fellow of Engineers Canada (2009), Honorary Life Membership in APEGGA (1973), distinguished lecturer for CIM (1972) and Oilweek Magazine's Oilman of the Year (1970). Hemstock was retired and lived in Calgary before he died in August 2010.