1971

:

James R. Hume, P.Geoph., FGC, FEC (Hon.)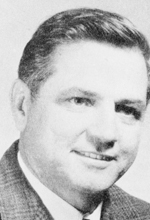 Born in Bashaw, Alta., James Hume graduated with a bachelor of science degree in mining (hardrock) engineering in 1949 from the University of Alberta.
Hume's military experience was as a navigator for the Royal Canadian Air Force from 1943-45. From the late 50s to the early 70s he was employed as a geophysicist by Home Oil Company Ltd. in Calgary. Prior to that, he worked throughout Alberta, British Columbia, the southern U.S. and Venezuela.
He served the association on the discipline committee, APEGGA/EIC/ESS committee, professional affairs for geophysics committee, enforcement committee and status of geologists and geophysicists committee.
He was elected to council, and later served as vice-president (1970-71) and president (1971-72). He was subsequently awarded Honorary Life Membership in the association. Hume was named an honorary fellow of Engineers Canada in 2009 and a fellow of Geoscientists Canada in 2013.
He was also a member of the Society of Exploration Geophysicists and Canadian Society of Exploration Geophysicists.
Hume died in Calgary on April 7, 2018 at the age of 93.