1968

:

Percy M. Butler, P.Eng., FEC, FGC (Hon.)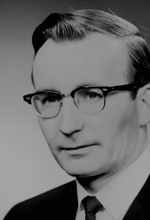 Percy Butler received his bachelor's degree in mechanical engineering (with distinction) from the University of Saskatchewan in 1946. He was born in Leask, SK, where he attended grade school and was awarded the class medal and the Governor General's medal upon completion of high school.
After graduation, he was employed as a design engineer with H.H. Angus & Associates Ltd. in Toronto. He moved to Edmonton in 1950 to open a branch office and he was appointed vice-president and general manager of Angus Butler & Associates Ltd. In 1961, he became president of Angus, Butler Engineering Ltd.
He was elected to council and later served as vice-president (1967-1968) and president (1968-1969) of the Association of Professional Engineers of Alberta (APEA). Under his presidency, APEA's name was changed to The Association of Professional Engineers, Geologists and Geophysicists of Alberta. He served the association as chair of the consulting practice committee, the honours and awards committee, and the professional affairs committee, and as a member of the consulting practice committee, the joint board of practice for architects and engineers, and the nominating committee. Butler was subsequently awarded Honorary Life Membership from the Association.
His other professional commitments were as a Canadian director of the American Society of Heating, Refrigerating, and Air-Conditioning Engineers (ASHRAE), the board of directors of the Association of Consulting Engineers of Canada, and as an active member in the Engineering Institute of Canada's Edmonton chapter. He was also the director of Financial Building Ltd., Watrous Equipment Ltd., and Capital Markets West Inc. He received the Canadian Consulting Engineers' Award of Excellence in 1969. In 1999, he received a 50-Year Distinguished Service Award from ASHRAE and was named a fellow of Engineers Canada in 2009 and an honorary fellow of Geoscientists Canada in 2013.
He served many community organizations, including the United Church of Canada, as past-president of the Edmonton Day Centre, Hillcrest Country Club, and Edmonton Construction Club. Butler was also active in the Edmonton Chamber of Commerce, Chamber of Mines, and Alberta Chamber of Commerce.
Butler passed away in February 2017.