1966

:

Walter A. Smith, P.Eng.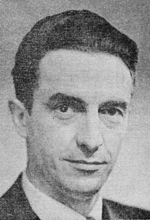 Born in Belfast, Ireland, Walter Smith graduated from the University of Alberta in 1933 with a bachelor of science degree in civil engineering. He worked for the engineering department of the Dominion Bridge Company in Calgary for one year then moved to Sudbury, Ont., to join International Nickel Company's mine survey and mining engineering department.
From 1936-40 he worked in the building contract department of John W. Fogg Ltd. in Timmins, Ont., then joined Burns and Company Ltd. in Calgary. Over a 25-year period he served the company as superintendent of utilities and plant construction, plant engineer, general mechanical superintendent and manager of engineering and development.
In 1965 he quit to become vice-president of the engineering consulting partnership T. Lamb and Associates Ltd. of Calgary and later president of Victus Consultants Ltd. He retired in 1979.
A member of council of the Association of Professional Engineers of Alberta (APEA; now The Association of Professional Engineers, Geologists and Geophysicists of Alberta) from 1958-61, Smith was elected association vice-president in 1965, president the following year and served on several association committees. He was subsequently awarded Honorary Life Membership.
He chaired the Calgary branch of the Engineering Institute of Canada, the Iron Ring Society and was a member of the American Society of Heating, Refrigerating and Air Conditioning Engineers. Smith also served as president of the Calgary Association for the Mentally Retarded (now the Developmental Disabilities Resource Centre of Calgary). He passed away in 1984.