1963

:

Dr. George Ford, P.Eng., FCAE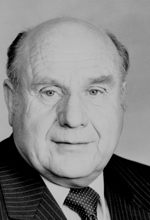 Born in Pocohontas, Alta., Dr. George Ford received bachelor of science and master of science degrees in civil engineering from the University of Alberta in 1942 and 1943, respectively.
He also attended Stanford University, where in 1948 he received a doctor of philosophy degree in applied mechanics.
Since 1942 he had been a sessional lecturer at the University of Alberta and in 1959 played a key role in establishing the university's department of mechanical engineering, which he chaired its first 12 years.
From 1971-76 he served as dean of engineering then stepped down to become professor of mechanical engineering. During his time at the university, Ford also worked as a consultant on applied mechanics and structures and an international consultant on engineering education. In 1984 he served as acting dean of engineering then retired from the university the following year.
Ford was elected to council of the Association of Professional Engineers of Alberta (APEA; now The Association of Professional Engineers, Geologists and Geophysicists of Alberta) in 1958 and served on several association committees.
He was elected vice-president in 1962, president in 1963 and for more than 25 years he was a member of the association's board of examiners, which he chaired from 1972-82. He was awarded Honorary Life Membership, the Centennial Leadership Award (1975) and the L.C. Charlesworth Professional Service Award (1982).
Ford served with many professional and technical associations, including the Engineering Institute of Canada, the Canadian Society for Mechanical Engineering and the Canadian Council of Professional Engineers (now Engineers Canada), which in 1978 awarded him its Gold Medal. In 1977 he received the Queen's Jubilee Medal and in 1981 was made a fellow of the Canadian Academy of Engineering.
Ford was also a member of the board of directors for Alberta Power and the Edmonton YMCA. He retired from consulting in 1995 and passed away in May 2005.