1961

:

Beverley A. Monkman, P.Eng.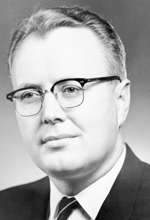 Born in Medicine Hat, Alta, Bev Monkman graduated from the University of Alberta in 1940 with a bachelor of science degree in civil engineering.
For the next nine years he worked in design and construction for Calgary Power Ltd., then headed east to become operating superintendent and later assistant general manager for Newfoundland Light and Power Company Ltd.
In 1953 he returned to the Calgary area, becoming managing director of Light Weight Aggregates of Canada Ltd., which was later renamed Consolidated Concrete Industries Ltd. In 1961 he was appointed executive vice-president and remained with the company for several more years before retiring.
Elected to council of the Association of Professional Engineers of Alberta (APEA; now The Association of Professional Engineers, Geologists and Geophysicists of Alberta) in 1957, Monkman served as a member of the meetings committee and was elected vice-president in 1960 and president in 1961. He was subsequently awarded Honorary Life Membership.
He also helped found the Association of Professional Engineers of Newfoundland, serving as its first president in 1952 and chaired the Newfoundland and Calgary branches of the Engineering Institute of Canada. Monkman lived in Vancouver until his passing in March 1999.