1959

:

Charles A. Stollery, P.Eng.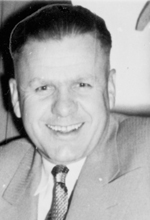 Born in Edmonton, Charles Stollery graduated from the University of Alberta in 1941 with a bachelor of science degree in civil engineering.
Over the next two years he worked as resident engineer in power plant construction for the City of Edmonton, storage building constructor for the Demerara Bauxite Company in British Guyana, and design engineer for the Aluminum Company of Canada in Montreal.
In 1943 he joined the Royal Canadian Navy to oversee the repair of ship hulls in Halifax and was discharged in 1945 with the rank of lieutenant commander. Stollery then joined Poole Construction Ltd., remaining with the company until his retirement in 1965 as general manager, vice-president and director of its Calgary division.
A short time later he bought Watson Construction Ltd. of Calgary and continued in the construction industry for several more years.
Stollery became a member of council of the Association of Professional Engineers of Alberta (APEA; now The Association of Professional Engineers, Geologists and Geophysicists of Alberta) in 1952, was elected association vice-president in 1958 and president in 1959. He was subsequently awarded Honorary Life Membership.
He also chaired the public relations committee and was a member of the Calgary branch of the Engineering Institute of Canada. He passed away in 1975 and was posthumously awarded the L.C. Charlesworth Professional Service Award the following year.