1957

:

J. Campbell Sproule, P.Geol.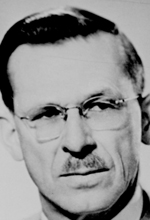 Born in Edmonton, Dr. Cam Sproule graduated from the University of Alberta in 1930 with a bachelor of science degree specializing in geology.
He continued his geology studies at the University of Toronto, receiving a master's degree in 1931 and doctor of philosophy degree in 1935. Over the next four years he worked for the Geological Survey of Canada, covering areas in Saskatchewan, Quebec and Nova Scotia.
In 1939 he was hired by Imperial Oil Ltd. as geologist and exploration manager for the company's Saskatchewan operations, then moved to Toronto in 1946 to become chief advisory geologist for International Petroleum Company. In 1951 he moved to Calgary to work as a consulting geologist.
A member of council of the Association of Professional Engineers of Alberta (APEA; now The Association of Professional Engineers, Geologists and Geophysicists of Alberta) in 1955, Sproule was elected association vice-president in 1956 and president the following year.
He was subsequently awarded Honorary Life Membership. He was also president of what is now the Canadian Institute of Mining, Metallurgy and Petroleum in 1959 and in 1963 became the first Canadian president of the American Association of Petroleum Geologists.
In 1966 the Engineering Institute of Canada awarded him the Julian C. Smith Memorial Medal for achievement in the development of Canada. He was also a fellow of the Royal Society of Canada, the Geological Society of Canada and the Geological Society of America.
Sproule played a key role in developing the petroleum industry in the north and in 1967 received the association's Centennial Leadership Award in honour of his work in the Canadian Arctic. He passed away in 1970 in Jasper while completing a paper on the geology of the Canadian Arctic islands.