1954

:

LeRoy Allan Thorssen, C.M., P.Eng.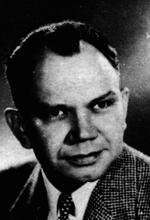 Born in Wisconsin, LeRoy 'Chick' Thorssen moved to Alberta at an early age, was raised on a farm at Namaka and attended the University of Alberta, graduating in 1939 with a degree in civil engineering.
During the Second World War, he was directed by the Wartime Bureau of Technical Personnel to teach engineering at the U of A. Following the war and after he received a master's degree in hydraulic engineering from the University of Iowa, he remained on the U of A faculty as administrative head and professor in the department of civil engineering.
In 1952, he left the university to become executive vice-president and general manager of Standard Holdings Limited and president of Consolidated Concrete Ltd. in Calgary.
Thorssen was elected president of the Association of Professional Engineers of Alberta (APEA; now The Association of Professional Engineers, Geologists and Geophysicists of Alberta) in 1954, making him one of the youngest individuals to hold that office.
What began as the somewhat jocular gesture when he completed his term as president has since evolved into the "vesting ceremony" whereby outgoing Association presidents are presented with a colourful vest by their predecessor. The vest presentation to Thorssen was made in response to his comments about some other members' vests. Thorssen continued to wear the vest for the next four decades at special Assocation events, such as past-presidents' dinners.
In addition to his service to the association and his profession, which were recognized with Honorary Life Membership and in 1970 with the Centennial Leadership Award, Thorssen actively supported many community causes. He chaired the Alberta Universities Commission from 1972-74, headed the University of Calgary's board of governors, and oversaw the funding, design and construction of the university's health sciences centre. Involved in the UnitedChurch, he played a key role as Mount Royal College was transformed from a private to a public institution.
From 1974-76 Thorssen served as executive director of the Calgary-based Canada West Foundation, which is involved in research on issues related to economic, political and social policy as they affect Western Canada. He was appointed member of the Order of Canada for his many civic and professional contributions and received an honorary doctorate from the University of Calgary. Thorssen passed away in 1996.