1951

:

Harold P. Randle, P.Eng.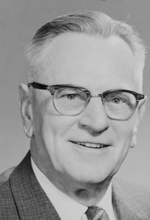 Born in Lancashire, England, Harold Randle moved to Ontario in 1910 and attended HamiltonTechnicalSchool and Hamilton Collegiate Institute. In 1913 he joined Canadian Westinghouse Company Ltd., where he worked for three years in assembly and component testing departments.
He served overseas with Canadian Engineers and Canadian Divisional Signal Corps during the First World War, then returned to the company in 1919. A year later he was appointed assistant to the district engineer in Winnipeg. In 1923 he became construction and service engineer for the FortWilliam district and in 1925 was promoted to district engineer for Calgary.
Four years later Randle joined Calgary Power Ltd. as an electrical engineer on its Ghost plant construction project. In 1942 he became the company's equipment and waterworks engineer and in 1963 was appointed systems planning engineer. He retired in 1970.
Randle was elected to council of the Association of Professional Engineers of Alberta (APEA; now The Association of Professional Engineers, Geologists and Geophysicists of Alberta) in 1946 and elected association president in 1951. He was subsequently awarded Honorary Life Membership.
He was also a member of the Engineering Institute of Canada and the American Water Works Association. He passed away in 1971 in Calgary.