1950

:

F. Austin Brownie, P.Eng.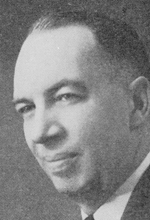 Born in Montreal, Austin Brownie grew up in Calgary where he spent most of his life. He received a bachelor of arts degree from the University of Alberta in 1933 and a bachelor of science degree in civil engineering the following year.
In 1935 he joined Northwestern Utilities in Edmonton as an assistant engineer, but four years later moved to Calgary as assistant to the general manager of Canadian Western Natural Gas. In 1948 he was named general manager and the following year was appointed president of both Canadian Western Natural Gas and Northwestern Utilities. In 1954 he also became president of Canadian Utilities Ltd.
Brownie became a member of the Association of Professional Engineers of Alberta (APEA; now The Association of Professional Engineers, Geologists and Geophysicists of Alberta) in 1940 and served on council from 1944-46. He was elected president in 1950 after serving as vice-president the previous year. He was subsequently awarded Honorary Life Membership in the association.
Brownie served as president of the Canadian Gas Association and director of the American Gas Association. He was also a member of the Engineering Institute of Canada and numerous local organizations, including the Calgary Chamber of Commerce, the Calgary Kiwanis Club and the Canadian Red Cross Society's Alberta division.
Brownie passed away at an early age in 1956. At the time he was president of Canadian Western Natural Gas, Northwestern Utilities, Canadian Utilities, Sturdie Propane, Hugh Gas, North West Fidelity Trust, and a director of Alberta Gas Trunk Line.