1949

:

Robert M. Hardy, OC, P.Eng.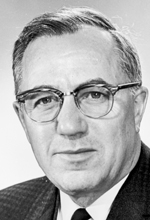 A Winnipeg native, Robert Hardy received a bachelor of science degree in civil engineering from the University of Manitoba in 1929. He obtained a master of science degree in structural engineering from McGill University the following year, then joined the University of Alberta as lecturer, and later professor, of civil engineering.
He spent several summers as a graduate student studying applied mechanics at the University of Michigan and soil mechanics at Harvard. Other summers were spent on engineering projects, including designing the City of Edmonton Power Plant, conducting land and mining claim surveys, and in 1941 and 1942 as structural designer and foundation specialist with Aluminum Company of Canada Ltd.
In 1947 he was appointed dean of engineering at the University of Alberta. He resigned 12 years later to concentrate on his consulting practice, R.M. Hardy and Associates Ltd., but remained with the university as part-time research professor until 1963 when he was re-appointed dean. He retired again in 1971, but remained active in consulting for another 14 years.
A member of council of the Association of Professional Engineers of Alberta (APEA; now The Association of Professional Engineers, Geologists and Geophysicists of Alberta) in 1947, Hardy was elected association vice-president in 1948 and president in 1949.
He was later elected association representative to the Canadian Council of Professional Engineers (now Engineers Canada), where he served terms as vice-president and president. He was elected vice-president of the Engineering Institute of Canada, chaired its Edmonton branch, and was later named a fellow of the institute. He was also a fellow of the Royal Society of Canada and a member of the American Society of Civil Engineers.
Throughout his life Hardy received numerous awards, including the Association's Centennial Leadership Award and Honorary Life Membership, CCPE's Gold Medal and the Alberta Achievement Award. In 1974 he was made an officer of the Order of Canada. He also held honorary doctorate degrees from the University of Manitoba, the Royal Military College of Canada and the University of Alberta.
An author of more than 60 technical papers, Hardy was recognized internationally as a leading expert in foundation engineering and soil mechanics. He pioneered techniques for building on permafrost, which allowed construction of the Alaska Highway, major dams and giant pipelines. While dean of engineering at the University of Alberta he developed the largest graduate school of civil engineering in Canada. Hardy passed away in 1985.