1948

:

Chester S. Clendening, P.Eng.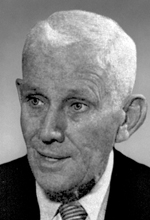 A native of Walkerton, Ont., Chester Clendening graduated from the Toronto School of Science with a degree in civil engineering. He then worked on the Detroit tunnel and power development before heading to Western Canada.
He joined the Grand Trunk Pacific Railway engineering department in 1912 and later worked for the Pacific Great Eastern Railway. During the First World War he served overseas with the Canadian Military Engineers.
Shortly after the war he became resident engineer with the Lethbridge Northern Irrigation District and in 1940 was named district manager. He retired in 1961 after 40 years of service.
Clendening registered with the Association of Professional Engineers of Alberta (APEA; now The Association of Professional Engineers, Geologists and Geophysicists of Alberta) in 1921 and was elected to council in 1941. He was voted vice-president in 1947 and president the following year.
While president, he became concerned about the lack of facilities for engineering students at the University of Alberta. He played a key role in ensuring the engineering building was built ahead of schedule in 1949 to accommodate the rapidly increasing number of students. In 1976 he received the L.C. Charlesworth Professional Service Award.
Also a member of the Engineering Institute of Canada, Clendening served on the executive of the Lethbridge branch from 1921-29 and was elected branch chair in 1930. He passed away in Lethbridge in 1976.