1947

:

Joseph S. Irwin, P.Geol.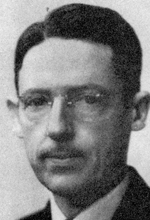 A native of Louisiana, Mo., Joseph Irwin graduated from the Missouri School of Mines in 1912 with a bachelor of science degree in mine engineering, remained as a geology instructor until 1914, then taught geology for two years at LehighUniversity in Pennsylvania. After serving as a geologist for Carter Oil Company of New Jersey for one year, he joined the U.S. army.
He was discharged in 1918 with the rank of second lieutenant, then for 13 years worked for Denver-based Producers and Refiners Corporation. He took leave in 1922 to obtain an engineer of mines degree from the Missouri School of Mines and returned to become chief geologist in 1926. During this period Irwin became enticed by Canadian petroleum opportunities and convinced Producers and Refiners Prairie Group to enter Western Canada. He headed the company's exploration work from 1930-32, then operated his own consulting office in Calgary for several decades.
Irwin was a member of council of the Association of Professional Engineers of Alberta (APEA; now The Association of Professional Engineers, Geologists and Geophysicists of Alberta) from 1943-45, elected association vice-president in 1946 and president in 1947.
He also served terms as president of the Alberta Society of Petroleum Geologists and the Rocky Mountain Association of Petroleum Geologists. He was a founding member of the American Association of Petroleum Geologists and held membership in what is now the Canadian Institute of Mining, Metallurgy and Petroleum, the Geological Association of Canada and the Engineering Institute of Canada.
Demonstrating his philosophy that the mind is the only tool which is not dulled, but sharpened by use, Irwin continued working well beyond his 80th birthday. He passed away in 1979.