1946

:

Leonard C. Stevens, P.Eng.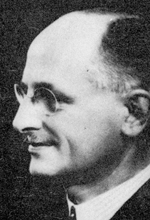 Born in Darbyshire, England, Leonard Stevens attended BourneCollege in Birmingham, apprenticed as a mining engineer in Leicestershire and spent four years as an installing engineer for a manufacturer of coal mining machinery.
He then joined South Leicestershire Collieries as assistant mine manager and in 1908 was recruited by Crowsnest Pass Coal Company Ltd. of Fernie, B.C., where he served as machine boss, fire boss and surveyor. After six months he quit and became manager of several mines in Alberta and British Columbia.
In 1912 Stevens moved to Edmonton and later manufactured mining equipment, ran a machinery business and built mining plants. In 1923 he started his own mining consulting business which he ran for several decades before retiring.
A founding member of the Association of Professional Engineers of Alberta (APEA; now The Association of Professional Engineers, Geologists and Geophysicists of Alberta), Stevens was an influential lobbyist for its formation in 1920. He was elected to council in 1931, elected association vice-president in 1945 and president in 1946.
He also served as vice-president of what is now the Canadian Institute of Mining, Metallurgy and Petroleum in 1930 and wrote many papers on coal mining for the institute and the federal government. Early in his career, Stevens installed the first automatic coal cutting machines used in Wales. During his years in Alberta he provided engineering services and practical advice to hundreds of mines throughout the province. He passed away in 1975 in Edmonton.