1944

:

Julian Garrett, P.Eng.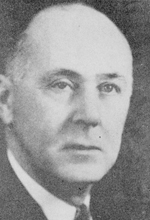 Born in Hyde Park, Mass., Julian Garrett attended the Lawrence Scientific School at HarvardUniversity. He began his career as assistant instructor at the Harvard Engineering Camp and in 1906 became resident engineer for the Grand Trunk Pacific Railway.
He came to Edmonton in 1911 and operated a real estate business for 12 years before joining Northwestern Utilities as manager of its land department. He became vice-president of the company in 1947, but stepped down a year later to work as a consultant. In 1951 he was appointed director of petroleum and natural gas for Barbados. After retiring in 1957, Garrett offered his services as a natural gas consultant free to the government of Barbados until he moved to Victoria in 1967.
Elected to council of the Association of Professional Engineers of Alberta (APEA; now The Association of Professional Engineers, Geologists and Geophysicists of Alberta) in 1938, Garrett went on to serve as association vice-president in 1943 and president in 1944. He was subsequently awarded Honorary Life Membership.
He was also president of the Canadian Gas Association in 1939 and chair of the Edmonton branch of the Engineering Institute of Canada. He was a member of the Natural Gas and Petroleum Association of Canada, the Pacific Coast Gas Association, the American Gas Association and the American Petroleum Institute.
An ardent supporter of the EdmontonMuseum of the Arts, Garrett served as its vice-president and president. He was also a member of the Alberta Rhodes Scholarship selection committee and a founder of the Edmonton Community Chest. In 1948 he received the Junior Chamber of Commerce Citizenship Award for "outstanding voluntary service to the community, freely and unselfishly given."
Despite his busy schedule, Garrett also found time to design the course for the Highlands Golf Club, as well as golf courses in Grande Prairie, Peace River and Camrose, Alta. He passed away in Victoria in 1971.