1942

:

Samuel G. Coultis, P.Eng.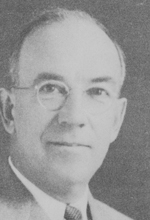 Born in Forest, Ont., Samuel Coultis received a degree in pharmaceutical chemistry from the University of Michigan in 1909. Four years later he was hired as chemist for the City of Calgary where he conducted analyses for the health and police departments and later tested concrete for bridge construction.
In 1917 he joined Imperial Oil to head operations of its subsidiary, Dingman Oil Company, in the TurnerValley. Three years later he became the first employee of Royalite Oil Company and was appointed plant manager in 1921 and a company director in 1924.
In 1939 he became president and general manager of Valley Pipe Line Company, a public utility created to pipe oil to Calgary. Ten years later he joined Imperial Pipe Line Company Ltd. in Edmonton, serving as vice-president and general manager until 1952. After a brief retirement, he re-entered the workforce with Edmonton Pipe Line Company, where he remained until 1959.
Coultis registered with the Association of Professional Engineers of Alberta (APEA; now The Association of Professional Engineers, Geologists and Geophysicists of Alberta) in 1931, was elected vice-president in 1941 and president in 1942. He also chaired the Calgary branch of the Engineering Institute of Canada and was institute vice-president of the western region.
Coultis was widely recognized for his contributions to many of the pioneering ventures in the Canadian oil and gas industry. He passed away in 1983.