1938

:

James G. Sanderson, P.Eng.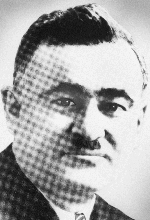 A native of Medicine Hat, Alta., Dr. James Sanderson received his master's degree in geology from the University of Alberta, went on to work for the National Research Council in Ottawa and then taught at Yale University and the University of Toronto. In 1928 he received a PhD.
Early in his career Sanderson worked as a geologist for Imperial Oil and for government surveying and research organizations. Among the areas he explored were Great Slave Lake and the Northwest Territories, the latter reached by canoe along the Mackenzie River.
In 1933 he opened his own office in Calgary and for the next 30 years operated as a consulting geologist to oil, coal and mining companies in Western Canada.
Elected to council of the Association of Professional Engineers of Alberta (APEA; now The Association of Professional Engineers, Geologists and Geophysicists of Alberta) in 1935, Sanderson was voted association vice-president in 1937 and president the following year.
He was also president of the Alberta Society of Petroleum Engineers in 1938 and a member of the American Association of Petroleum Geologists and what is now the Canadian Institute of Mining, Metallurgy and Petroleum.
Sanderson was a rancher and rodeo star in his youth and his reputation as a cowboy followed him throughout his life. He co-wrote Geology of the Red River Valley in 1945 and produced 2,600 articles which were donated to the University of Alberta. He passed away in 1963.