1936

:

Albert W. Haddow, P.Eng.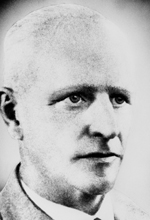 Born in Simcoe, Ont., Albert Haddow headed west after obtaining his degree in civil engineering from Queen's University in Kingston, Ont., in 1909.
For the next 41 years he worked for the City of Edmonton, advancing shortly after his arrival to assistant city engineer and then in 1919 to city engineer. In 1920 he was appointed city public works commissioner, but stepped down a year later to return to his city engineer post.
During his long civic career Haddow oversaw the construction of the EdmontonMunicipalAirport, designed the Riverside Golf Course and contributed to the construction of many of Edmonton's bridges, roads and sewer lines. He also promoted the use of former landfill sites as recreational areas.
Three sites are now home to Commonwealth Stadium, the Muttart Conservatory and the Shaw Conference Centre. The American Public Works Association recognized Haddow's record in 1940 and presented him with its long service award. He retired from the city in 1950, but was retained for several years as a consultant to help plan Edmonton's post-war growth explosion.
Haddow served on council for the Association of Professional Engineers of Alberta (APEA; now The Association of Professional Engineers, Geologists and Geophysicists of Alberta) for several years beginning in 1924. He was elected vice-president in 1935 and president the following year. He was granted Honorary Life Membership in the association and in the Engineering Institute of Canada in 1951.
Haddow spent his later years in Victoria and passed away in 1958. In 1986 the association paid tribute to his work by posthumously naming him Engineer of the Year.