1934

:

Joseph B. de Hart, P.Eng.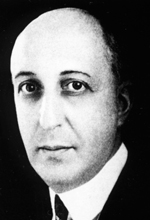 Born in Newcastle-on-Tyne, England, Joseph de Hart emigrated to Canada at the turn of the century and pursued his engineering education at McGill University in Montreal, graduating in 1912 with a master's degree in civil and mining engineering.
He relocated to Alberta and became a member of the Association of Professional Engineers of Alberta (APEA; now The Association of Professional Engineers, Geologists and Geophysicists of Alberta) in 1920.
He specialized in mining, smelting and coal testing for the provincial government. He rose within the Department of Mines to become provincial mines inspector.
Elected to council in 1933, de Hart went on to serve as president in 1934. During his tenure in office the association made strides in ensuring professional engineers were employed in key positions with the Public Utilities Commission and the provincial public service.
He remained active in his professional association during the course of his career and was well respected by his peers. He was also active in establishing the Ritual of the Calling of an Engineer Camp 6 in Edmonton, the organization responsible for the Iron Ring ceremony for engineering graduates.
He retired from service and moved to Calgary. He passed away in 1955.