1930

:

John A. Allan, P.Eng.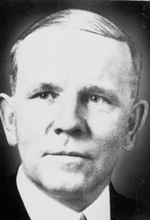 Born in Aubrey, Que., Dr. John Allan was drawn to geology at an early age thanks to the fascinating landscape near the family farm. In 1907 he graduated from McGillUniversity with an arts degree specializing in geology and in 1908 obtained a master of science degree in mining geology.
He continued his graduate work at the Massachusetts Institute of Technology, receiving a doctor of philosophy degree in 1912. He was then hired as an instructor at the University of Alberta and in 1913 appointed professor of geology, a position he held until retiring in 1950.
From 1906-18 Allan also worked summers as a field geologist for the Geological Survey of Canada, covering areas in British Columbia, Alberta and Saskatchewan. In 1919 he began a systematic investigation of Alberta's mineral resources, which played a key role in the development of oil, gas and coal industries in the province. He also helped establish what is now the Alberta Research Council, heading its geological section for many years. Later he served as a consultant to the Calgary Power Company.
Allan joined the Association of Professional Engineers of Alberta (APEA; now The Association of Professional Engineers, Geologists and Geophysicists of Alberta) in 1920, served on council from 1925-27 and was elected president in 1930. He was instrumental in lobbying for the professional recognition of geoscientists in Alberta, a model adopted by other provinces across the country.
He was also a member of the Engineering Institute of Canada and a fellow of the Royal Society of Canada. He served as president of what is now the Canadian Institute of Mining, Metallurgy and Petroleum in 1932. Known affectionately as "Hardrock" to generations of students, Allan passed away in 1955. In recognition of his survey work in Alberta, a mountain in Kananaskis country was named after him.