1929

:

R. Bruce Baxter, P.Eng.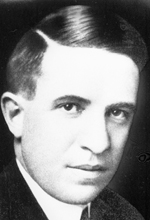 Born in Sherbrooke, Que., Bruce Baxter received much of his engineering training while on the job. He joined the Bell Telephone company in Sherbrooke upon graduating from high school then moved to Alberta shortly after to work as a district inspector for the provincial telephone department.
After working in Lacombe, Stettler and Calgary he moved to Edmonton in 1917 as the department's plant superintendent and chief engineer. Within eight years he became general manager and deputy minister of telephones for Alberta.
In 1928 Baxter became managing director of the Calgary Power Company. Within five years he was both vice-president of Calgary Power and managing director of its parent company, Montreal Engineering. Based in Montreal, he travelled thousands of miles to oversee the company's extensive power developments in Canada, South America and the Caribbean.
Baxter was elected to the Association of Professional Engineers of Alberta (APEA; now The Association of Professional Engineers, Geologists and Geophysicists of Alberta) first council in 1920 and was voted president in 1929.
He was also president of the Canadian Electrical Association in 1935 and 1936 and a director of the Prairie Power and Ottawa Valley Power companies. He passed away in Montreal in 1940.