1927

:

William J. Cunningham, P.Eng.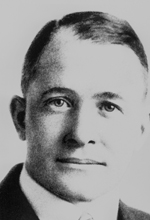 Born in Altrincham, England, William Cunningham was first employed by the Altrincham Electrical Company and later attended the University of Manchester's College of Technology.
In 1907 he emigrated to North America, living in the U.S. and Quebec before settling in Calgary. There he worked for the city power plant and was promoted several times before being appointed assistant superintendent in 1915. Shortly after, he left for England to inspect and fit naval and field guns for the Royal Arsenal during the First World War. On his return, Cunningham was appointed superintendent of the Edmonton power plant, and in 1925 was given the additional duties of heading of the city's street railway department.
Cunningham served on the Association of Professional Engineers of Alberta (APEA; now The Association of Professional Engineers, Geologists and Geophysicists of Alberta) council a total of six years, was elected vice-president in 1926 and president in 1927. He was also a member of the Engineering Institute of Canada.
Cunningham was an integral part of the development and expansion of Edmonton's power and railway services. He was superintendent of both departments when he passed away suddenly in 1934.