1926

:

B.L. (Benjamin) Thorne, P.Eng.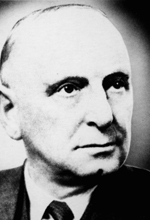 Born in Holland Landing, Ont., Benjamin Leonard Thorne joined the Canadian Pacific Railway (CPR) at 19 and worked for its general freight department in Toronto. He later became involved in land surveying and mining operations in Ontario and the western U.S.
Shortly after rejoining CPR in 1903, Thorne became engineer of development and construction for the company's Bankhead mines near Banff, Alta., and Hosmer mines in B.C. He also oversaw exploration operations for CPR's coal claims in the Crowsnest Pass and investigated the company's mineral holdings in the prairie provinces.
In 1914 he took the job of mining engineer for the railway's department of natural resources in Calgary, a position he held until retiring in 1940.
Elected to the Association of Professional Engineers of Alberta (APEA; now The Association of Professional Engineers, Geologists and Geophysicists of Alberta) council in 1921, Thorne was elected vice-president in 1925 and president in 1926.
He also played a key role in lobbying the provincial government to revise The Engineering Act, which gave the association power to regulate engineering practice in Alberta. Thorne's value to the mining industry was affirmed when he was elected president by acclamation in 1939 of what is now the Canadian Institute of Mining, Metallurgy and Petroleum.
After retiring from CPR, Thorne remained active in mining engineering as an associate of the Calgary firm Osler, Hammond and Nanton, Ltd. He passed away in 1944.