1923

:

Charles A. 'Baldy' Robb, P.Eng.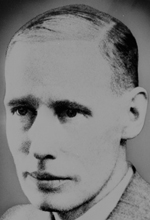 A native of Amherst, N.B., Dr. 'Baldy' Robb attended Mount Allison University then McGill University, graduating in 1909 with a degree in mechanical engineering. He continued his studies at Massachusetts Institute of Technology, where he later taught engineering before joining the University of Alberta in 1912 as a mechanical engineering instructor.
During the First World War, Robb served as consultant to the Canadian government and was involved in munitions production in Great Britain. Returning to the University of Alberta, he became resident engineer and the University's first professor of mechanical engineering.
In 1938 he received a doctor of engineering degree from John Hopkins University, then spent the early part of the Second World War as a power consultant to the Canadian government's Department of Munitions and Supply.
After a three-year stint with the Aluminum Company of Canada, Robb became chair of the mechanical engineering department at McGill University, where he remained until entering private practice in 1953. In 1956 he was awarded an honorary doctor of laws degree from Mount Allison University.
Elected to council of the Association of Professional Engineers of Alberta (APEA; now The Association of Professional Engineers, Geologists and Geophysicists of Alberta) in 1921, Robb served as association president in 1923. During his time at the University of Alberta he acted as a consultant to many western municipalities on steam and diesel power projects.
Robb was best known for modifying steam engine fire boxes so slack coal, which was very abundant in Alberta, could be used as fuel. This innovation brought great prosperity to the province's coal mining industry. Robb passed away in 1940.