1922

:

Robert G. Drinnan, P.Eng.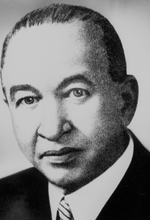 Born in Linlithgowshire, Scotland, Robert Drinnan received his early education in Glasgow and worked as a mining engineer in England for several years before coming to Canada in 1898.
He held numerous coal mining positions in West Kootenay, B.C., and southern Alberta before managing mines at Cadomin, Alta. In 1920 he became managing director of Luscar Collieries Ltd. and Mountain Park Collieries Ltd., positions he held until retiring in 1938.
Drinnan was elected the Association of Professional Engineers of Alberta (APEA; now The Association of Professional Engineers, Geologists and Geophysicists of Alberta) third president in 1922.
He was also elected vice-president of the Alberta branch of what is now the Canadian Institute of Mining, Metallurgy and Petroleum in 1936. Acknowledged as one of Canada's leading authorities on coal mining, he was appointed to many government commissions and boards dealing with coal mining problems in the west.
Drinnan passed away in 1940 in Edmonton. The mining hamlet of Drinnan, which is now gone, was named after him.