1920

:

Frederick H. Peters, P.Eng.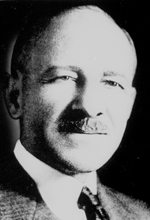 A native of Quebec City, Frederick Peters attended Upper Canada College and Royal Military College before joining the Department of Public Works in 1904 to work on several major engineering projects, including the Upper Ottawa River survey and the Georgian Bay ship canal project.
In 1909 he transferred to the Department of the Interior where he conducted hydrometric investigations of the Milk and St. Mary rivers in Alberta in connection with the International Waterways Treaty. The following year he became the department's chief engineer of irrigation and a short time later was commissioned as a federal land surveyor based in Calgary.
In 1922 he transferred to Ottawa as assistant to the director general of surveys, later became surveyor general for the department and in 1937 was appointed chief of hydrographic services for the newly created Department of Mines and Resources, remaining in that position until retiring in 1948.
Peters became the first Association of Professional Engineers of Alberta (APEA; now The Association of Professional Engineers, Geologists and Geophysicists of Alberta) president in 1920, an interim appointment by charter members shortly after The Engineering Profession Act received royal assent. At the first association general meeting later that year, members voted to retain Peters as president.
He was also a member of the American Society of Civil Engineers, chaired the Calgary branch of the Engineering Institute of Canada and was a delegate for Canada to the map division of the International Civil Aviation Organization. While in office, Peters chaired several provincial boundary commissions. He was awarded the Order of the British Empire for his contribution to essential maps and air charts during the Second World War.
Peters was a vocal advocate of licensing and registering engineers. He was a contributing author of The Engineering Profession Act and gave much support to the establishment of professional engineering associations in other provinces.