2022

:

Lisa Doig, P.Eng., MBA, FEC, FGC (Hon.)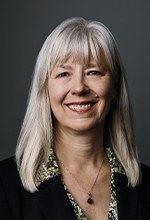 Lisa Doig, a professional engineer, earned her bachelor of science in electrical engineering from the University of Alberta in 1989, adding to it a master of business administration from Ivey Business School in 2002. Her career has spanned multiple industries, including petrochemical, upstream exploration and production, pipelines, electricity, and downstream oil and gas. Over the past three decades, her responsibilities have included project management, regulatory, operations, and commercial activities.
She's the founder and managing director of O'Doig Consulting, through which she advises clients in technology development, commercialization, strategy, and technology readiness. Doig is a strong advocate for incorporating technical expertise in decision making and not basing decisions solely on cost. She firmly believes diversity is key to fostering new ideas and challenging old paradigms, supporting continuous improvement and continued relevance.
An active volunteer in the engineering community, Doig has lent her time and expertise to the University of Alberta and APEGA's Central Alberta Branch. She served twice on APEGA Council prior to being elected president and has represented APEGA at the national level as a director with Engineers Canada.
Doig is a Fellow of Engineers Canada and an Honorary Fellow of Geoscientists Canada.