2019

:

George Eynon, P.Geo., FGC, FEC (Hon.)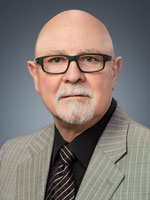 APEGA's 100th President—and 10th geoscientist President—was George Eynon, P.Geo., the Managing Director and Principal Consultant at geos • eynon & associates consulting inc. Before arriving in Canada in 1970, George was a high school teacher in London, England. He graduated in 1972 with a master of science degree in geology from McMaster University. He then moved to Calgary, where he's lived ever since.
With more than 45 years of professional experience, George has worked in a variety of roles, among them technical, consulting, management, and executive positions. George has worked in and beyond Canada, with his career sending him, among other places, to the U.S., the North Sea, Pakistan, and Indonesia. He has provided energy resources consulting and research services for GEOS Energy Consulting, Ziff Energy, Cambridge Energy Research Associates, and the Canadian Energy Research Institute.
A lifelong learner, George has delivered courses for the University of Calgary, through the university's Haskayne School of Business and its School of Public Policy. He has six years of experience as an APEGA Councillor, and he has also served his professional association on the Governance Committee and the Practice Review Board.
In 2008, he was appointed to the Board of Directors of the Alberta Energy Regulator (then called the Energy Resources Conservation Board). He remained on the board until 2013.
George and his wife, Joyce, have been married for more than 45 years. They have two daughters and three grandchildren.