2017

:

Jane Tink, P.Eng., FEC, FGC (Hon.)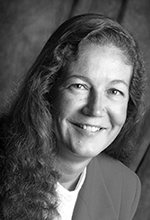 Jane Tink, Professional Engineer, was born in Red Deer and obtained her bachelor of science degree in civil engineering from the University of Calgary in 1984.
She began her career at a small oil and gas company, reviewing and developing an economic evaluation program and reserve-tracking system before becoming the company's drilling and completion engineer.
Tink was responsible for various geographical areas in Western Canada, including all aspects of engineering, from exploration to well abandonment and reclamation.
In 1994, Tink joined the Ryder Scott Company as team leader, APEGA Responsible Member, and primary contact for domestic and international clients. In the 18 years she worked there, her responsibilities increased, and she was promoted to Senior Vice-President.
In 2013, Tink started a consulting firm, Consult Tink Inc., which provides contract engineering to clients around the world. At APEGA's 2017 annual general meeting on April 28, she became APEGA's 98th President.