2014

:

Jim Gilliland, P.Eng., PhD, FEC, FGC (Hon.)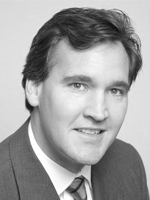 Jim Gilliland, P.Eng., PhD, FEC, FGC (Hon.), was born in Winnipeg, Man., and moved with his family to Calgary, Alta., in 1981. He received his B.Sc. in civil engineering in 1992 and master's degree in civil engineering in 1994, both from Queen's University at Kingston, Ont.
He returned to Calgary and completed his PhD in structural engineering at the University of Calgary in 2001. At university, and through his professional career, he has authored and co-authored many papers in civil engineering journals and conference proceedings.
Dr. Gilliland began his consulting engineering career in 1997, joining Stantec Consulting Ltd. as a structural engineer. In 2006, he joined A.D. Williams Engineering Inc., now Williams Engineering Canada Inc., as the discipline coordinator for structural engineering in Calgary. Project highlights in his career include the Calgary Hyatt Hotel, the Information and Communications Technology Building at the University of Calgary, the Calgary Courts Centre, the Mustard Seed Affordable Housing Initiative in Calgary, and the Atlantic Avenue Art Block in Calgary. He became the southern Alberta regional director at Williams Engineering Canada Inc. in 2012 and continues to enjoy his leadership role in the organization.
Since his term as APEGA President, Dr. Gilliland remains involved with APEGA as a board member of the APEGA Foundation, and more indirectly as a warden of Camp 18, part of the Corporation of the Seven Wardens, which administers The Ritual of the Calling of an Engineer in Calgary.
Dr. Gilliland maintains a connection with his academic roots by volunteering with the Canadian Society for Civil Engineering (CSCE). He served as CSCE President in 2016-2017. He also contributes to activities at the University of Calgary, where he has participated in a variety of committees looking at solar panel design, construction productivity, and the civil engineering department curriculum. He completed an independent assessment of Professionalism, Ethics and Equity curriculum content in the Schulich School of Engineering as part of a review for the Canadian Engineering Accreditation Board.
Dr. Gilliland and his wife, Susan, live in Calgary with their son, Alex, and daughter, Georgia.