2010

:

Kim Farwell, P.Eng., MBA, FEC, FGC (Hon.)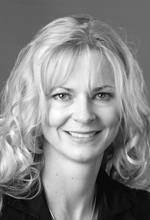 APEGGA President Kim Farwell, P.Eng., MBA, FEC works for Syncrude Canada Ltd. as an Operations Support Leader for Extraction. She is respected as an industry expert in commercial bitumen extraction processes and has lived in Fort McMurray for the past 15 years.
Farwell was the chair of APEGGA's Fort McMurray Branch from 2002 to 2003 and an APEGGA Councillor from 2002 to 2005 before returning as President-Elect in 2009 and then President in 2010. She has been a member and chair of numerous APEGGA committees and task forces, and is a recipient of an APEGGA Voluntary Service Award and the Early Accomplishment Summit Award®.
In June 2010 she was designated a fellow of Engineers Canada and in 2013 she was named an honorary fellow of Geoscientists Canada.