2001

:

H.D. (Dale) Miller, P.Eng., FEC, FGC (Hon.)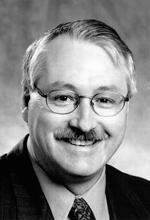 Born and raised in Odessa, Sask., Dale Miller graduated from the University of Saskatchewan in 1974 with a B.Sc. in civil engineering. Miller spent three years working in northeastern Saskatchewan designing erosion and flood management projects.
In 1977 he moved to southern Alberta, were he has made significant contributions to the irrigation industry. He was district engineer for the Bow River Irrigation District, co-founded and was a principal of MPE Engineering Ltd., and is currently the director of water management for UMA Engineering Ltd. in Lethbridge.
The majority of his work has been in rehabilitation of irrigation works and the construction of small dams and reservoirs. His work has been recognized by the Consulting Engineers of Alberta (CEA) and Association of Consulting Engineers of Canada. His East Arrowwood Syphon Replacement Project received two awards of excellence and an award of merit. In addition, he served as project manager for the Raymond Reservoir Hydro Project, receiving two awards of merit from the CEA.
His knowledge of water management and water conservation have led to invitations to work on projects in India, Mexico and in the state of Washington.
Miller served APEGGA for over 10 years, including his election to council in 1994, as first vice-president in 2000, and as president in 2001. Miller's commitment to APEGGA began in 1989 as a member of the Lethbridge executive committee, where in 1991 and 1992 he served as chair. He has been a member of the publications and editorial advisory committee (1993-94), discipline committee (1994-96), council (1994-96), relevance task force (1999-2000) and investigative committee (1998-2000).
He also chaired the self-governance coordinating committee (2001-03), the governance model review committee (2001-03) and the nominating committee (2002-03). He was awarded Honorary Life Membership in 2002 and represented APEGGA as a Canadian Council of Professional Engineers' (now Engineers Canada) director from 2003-05. In 2009, he was named a fellow of Engineers Canada and in 2013 he was named an honorary fellow of Geoscientists Canada.
Miller has shown his dedication to the profession and to the community through various affiliations and corporate or community services. He is a member of the Association of Professional Engineers and Geoscientists of Saskatchewan, the Association of Professional Engineers and Geoscientists of British Columbia and the Canadian Water Resources Association. He is recognized as a professional engineer in the states of Idaho, Washington, Montana and Oregon.