1999

:

Darrel J. Danyluk, P.Eng., FEC, FEIC, FCSCE, MASCE, FGC (Hon.)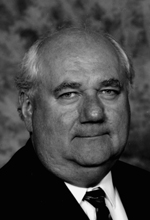 Born in Manitoba, Darrel Danyluk graduated from the University of Manitoba in 1972. His technical expertise developed while working with Reid Crowther, now EarthTech (Canada) Inc., on design and delivery of Manitoba and Alberta-based infrastructure projects, primarily in water and transportation sectors.
His international experience began in 1976 in Haiti, followed by water infrastructure work in Mexico, Africa, Europe and China. Danyluk served as Reid Crowther's chief operating officer and chair of the board before retiring in 2001.
Following his retirement, Danyluk joined the department of civil engineering at the University of Calgary as a Distinguished Industrial Visitor, becoming the first executive director of the Calgary Centre for Innovative Technology and subsequently the project director on the University of Calgary / City of Calgary alliance initiative.
Throughout his career, Danyluk has been active in APEGGA. He served on the Red Deer branch executive including chair, on council (1979-81) and on the executive committee (1998-2001) including president in 1999. During his term as president, APEGGA initiated mutual recognition discussions with neighbouring states to facilitate mobility of engineers. He was awarded Honorary Life Membership in 2000.
In 2002, Danyluk was appointed an APEGGA representative on the board of the Canadian Council of Professional Engineers (CCPE), now Engineers Canada, and elected president in 2004.
During his presidency, he led CCPE though its strategic planning exercise, continued mutual recognition discussions and initiated discussions with other Canadian engineering organizations on a common vision for Canadian engineers, an initiative he carried forward as past-president.
He also chaired steering committees that focused on national studies including From Consideration to Integration and the First National Assessment on the Vulnerability of Canada's Infrastructure to a Changing Climate.
In 2006, he became the Canadian representative at the World Federation of Engineering Organizations (WFEO) and in 2007 became a vice-president of WFEO and the chair of its Standing Committee on Engineering Environment. In this role, he led the WFEO participation at the UN framework convention on climate change and contributed to the UN commission on sustainable development.
Danyluk contributed to the consulting industry as a member of the board of directors and, in 1991, as president of the Consulting Engineers of Alberta (CEA). During his presidency, a memorandum of understanding was developed between CEA and APEGGA that defined the relationship and responsibilities of each association.
Subsequently, he represented Alberta's consulting industry on the board of the Association of Consulting Engineers of Canada (ACEC) and chaired a national steering committee to determine human resource needs of the Canadian consulting engineering industry. Many of the recommendations of the ACEC report From Potential to Prosperity have been implemented.
Danyluk is a fellow of the Canadian Society for Civil Engineering, Engineers Canada, the Engineering Institute of Canada, and a member of the American Society of Civil Engineers. In 2008, he became the first Canadian elected to the Pan American Academy of Engineering. He was a founding trustee of the Alberta Heritage Fund for Science and Engineering Research, now the Alberta Ingenuity Fund, and has served asa member and vice-chair of the Alberta Building Standards Council. In 2013 he was named an honorary fellow of Geoscientists Canada.