1997

:

Dennis A. Lindberg, P.Eng.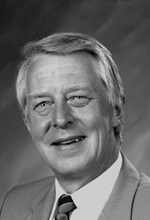 Born in Rimbey, Alta., Dennis Lindberg graduated from the University of Alberta with a bachelor of science degree in civil engineering (with distinction) in 1961 and subsequently returned to complete a master of science degree in civil engineering (geotechnical) in 1965. In 1976, he completed a six-week management program at the Banff School of Advanced Management.
Lindberg started his professional career with the production department of Shell Canada Ltd. After a break for post-graduate studies, he joined R.C. Thurber and Associates in Victoria as a geotechnical engineer. From 1966-70, the British Columbia Department of Highways employed him in Prince George as regional materials engineer for the northern two-thirds of B.C.
In 1970, he returned to Edmonton as a principal and director of Thurber Consultants Ltd. to establish and manage the first branch office. Under his leadership, the branch grew to become a leading geotechnical consulting operation in Western and Northern Canada. Lindberg was managing director of the firm from 1983-89, before selling his interest. He undertook consulting assignments with Thurber on a part-time basis and spent the balance of his time on volunteer assignments.
Lindberg was a strong supporter of professional, technical, church and community groups. He served on the executive as treasurer and chair for a number of groups, including the Geotechnical Society of Edmonton and the local branch of the Engineering Institute of Canada. He was a director of the Alberta Chamber of Resources from 1985-88, was elected to APEGGA council from 1990-93 and served on APEGGA's discipline committee for four years.
As chair of the discipline committee, he directed the completion of an educational video illustrating the discipline process and served as moderator for Iron Ring workshops in Edmonton and Calgary. He also led the completion of a detailed review of the discipline process that culminated in fundamental changes that were approved at APEGGA's 1993 annual general meeting. Lindberg served on the association's executive committee, as second vice-president (1994-95), first vice-president (1996-97) and president (1997-98). He was stricken with cancer in the midst of his tenure as president. Lindberg was made an Honorary Life Member in 1998. He passed away in July of that year.