1990

:

Norman Orr, P.Eng., FEC, FGC (Hon.)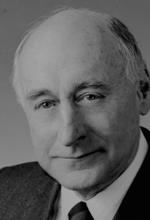 Born in Calgary, Norman Orr graduated from the University of Alberta in 1950 with a bachelor's degree in chemical engineering.
Orr worked in heavy construction and all sectors of the oil and gas industry throughout his career, including direct supervision of well drilling, engineering and construction of oil and gas facilities from minor flow lines to complex large gas processing plants. He is president of Norranco Development Inc., an engineering consulting firm based in Edmonton.
Orr has been a member of APEGGA since 1952. In 1983, he was elected to APEGGA council for a three-year term and was subsequently elected first vice-president (1989) and president (1990). In 1991 he was made an Honorary Life Member in recognition of his service to the association.
Other involvement included: chair of the task force on the future role of APEGGA; acts, regulations and bylaws committee; and member and chair of the honours and awards committee and the discipline committee. He was also president of the APEGGA Education Foundation from 2003-05. In 2009, was named a fellow of Engineers Canada and in 2013 he was named honorary fellow of Geoscientists Canada.
An active member of the community, Orr is an honorary warden of the Corporation of Seven Wardens Inc.