1989

:

David T. Irving, P.Eng., FEC, FGC (Hon.)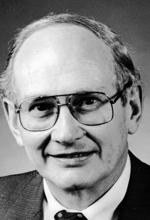 Born in Cape Bear, P.E.I., Dave Irving obtained a bachelor's degree in electrical engineering at the University of New Brunswick in 1960. He also earned a management development certificate from the University of Calgary and participated in the utility executive program at the University of Idaho.
Irving was employed with Shawinigan Water and Power in Quebec from 1960-65. He left Quebec in 1965 to join TransAlta Utilities, then known as Calgary Power Ltd., in Calgary as an electrical power distribution engineer. He soon managed distribution customer service in the Calgary division and was manager of operation in Lethbridge. He retired from his manager of distribution field services position with TransAlta in 1994.
Irving's service to the association was extensive. He chaired the Lethbridge branch (1982-83) and continued his activities as a member of council, a member and chair of the discipline committee, second vice-president (1987-88), first vice-president (1988-89) and president (1989-90).
Following his presidency, he served as a member of the public and member relations committee, member and chair of the nominating committee, member and chair of the appeal board, and chair of the staff benefits committee. He became an Honorary Life Member in 1990 and received the L.C. Charlesworth Professional Service Award in 1999. In 2009, he was named a fellow of Engineers Canada and in 2013, Irving was named an honorary fellow of Geoscientists Canada.
During his term as APEGGA president, key committee chairs and senior APEGGA staff carried out the association's first strategic planning sessions. The committee organization was reviewed and altered to focus on APEGGA's involvement in public education, and public and member relations. Clear goals and objectives were established and a mission statement was created.
Irving was active in the Lethbridge Chamber of Commerce, Rotary Club, and volunteer agencies, such as the United Way and church board. He passed away in 2020.